realme, the youngest of the world's top 6 smartphone brands, has emerged as the fastest-growing smartphone brand globally for the first time. The robust growth has enabled realme to land a place in the TOP 5 brands in terms of 5G smartphone shipments in 20 global markets and enhance its position as an industry leader in democratising 5G technology and service.
According to the latest Counterpoint Research report, realme's 5G shipments have grown the most among all major smartphone brands with a 165% YoY growth in the fourth quarter of 2021. The rapid growth has been fueled by the company's expansion into Western European countries such as Italy, Spain, France, the UK and Switzerland, in each of which it is the fastest-growing brand thanks to the GT series and 8 5G.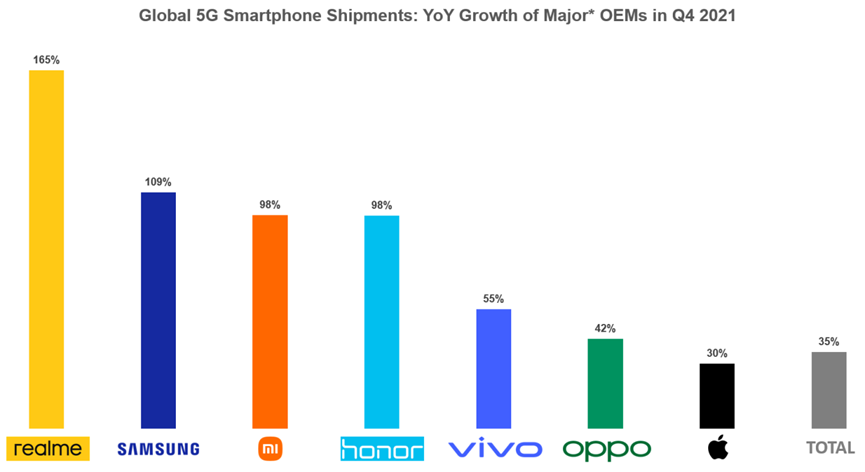 *Brands with quarterly 5G shipments of 5 million units or more in Q4 2021 are considered major 5G brands.
realme's 5G devices have also continued to perform well in regions such as the Middle East & North Africa and Asia Pacific, which constitute a majority of the 20 markets (including India, Bangladesh, Malaysia, Morocco, Myanmar and Singapore) where realme's 5G smartphone shipments rank among the top-five.
To further reinforce our dedication to delivering premium 5G service and experience, realme introduced the most premium product GT 2 Pro and revealed 150W charging in the upcoming GT NEO 3 at MWC 2022 just two weeks ago. The flagship promises the Greater Than You See experience with the best processor Snapdragon 8 Gen 1 and best Android 2K flat display.
realme also embarks on the first Europe Pop-up Store Tour in Paris, Madrid, Rome, Warsaw, Amsterdam and Cologne, featuring premium flagship products and sustainable artworks. GT 2 Series products were available in Europe from 8th March.